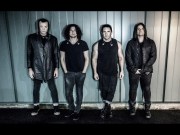 LETRA
Angel Rare (Letra/Lyrics)
I've tried to take this all just one step at a time,
I'd love to reason but I'll end this waver signed.
'Cause it's so lonely I feel like I have died
I thought angels never learned to say goodbye
Angel
I've felt emotions like I've never felt before
Felt such devotion that it's spilt upon the floor
Now I'm so empty there's nothing left to hide
I thought angels never learned to say goodbye
I've got to find you, and remind you how it is
My life's been shattered but inside I've found love exists
Now I'm so frightened, Im so afraid to die
I thought angels never learned to say goodbye.
Bye bye,
Bye bye.
Angel, Angel.
Now I'm so lonely, I'm so afraid to die.
'Cause I know that all the angels say goodbye
Angel
Angel
Bye bye, Angel.
Bye bye
Datos de esta canción
ANGEL RARE es una canción de Nine Inch Nails. Agradecemos a AdriRanis por haber sudido la letra de Angel Rare.