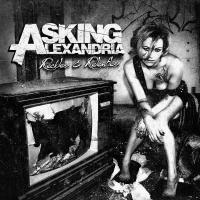 Reckless And Relentless
Letra y Canción
Añadir a Favoritas
Guardar en Playlist
RECKLESS AND RELENTLESS es una canción de Asking Alexandria del año 2011, este tema está incluido dentro del disco Reckless & Relentless.
LETRA
'Reckless And Relentless'
They said that self destruction I stopped below and for along,
My only home is the bottom of the bottle and a rolled up bill and im ready to go!
I let the scent die in and out and I dont care how long I last,
On the constant drink and drugs and dont get me wrong Im having a fuc*** blast.
I am rock and roll, living a life we can only dream of,
I am rock and roll at its fuc*** finest
Just like the cigarettes hurt,
Just like the whiskey burns, wohoa wohoa
I guess im never gonna learn (x2)
You cannot stop me till my insides bleeding,
You cannot stop me till my last breathe comes,
Im gonna go until I hit the floor
Cant find a way back to my feet
Anymooorreeee
Pass me a glass and lets destroy everything in this fuc*** place like a million miles an hour you pussys cant keep up with this fuc*** pace
I am rock and roll, living a life we can only dream of,
I am rock and roll at its fuc*** finest
Just like the cigarettes hurt,
Just like the whiskey burns, wohoa wohoa
I guess im never gonna learn (x2
Ive drunk the last time you stood here, your by my side,
You thought that it should be just like the good old days of rock and roll
Without a drink, without regret without a second thought
You look below on the end of the back of your fuc*** throat
I am rock and roll living a life we can only dream of
I am rock and roll at its fuc*** finest