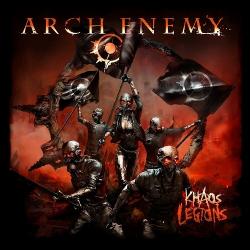 Bloodstained Cross
Arch Enemy
La canción 'Bloodstained Cross' se estrenó el . Este tema está incluido dentro del disco Khaos Legions
LETRA
Gripping the strength of belief
Old tales and lies you trust
In the end there is no relief
A final breath, you're breathing dust
Get up off your praying knees
The door is about to slam shut
Armageddon drawing near
As darkness engulfs your soul
All the prayers in this world won't help you now...
You deceived - they believed
In your bloodstained cross
A perverted truth your reality
Forced your beliefs on the weak
Power twisted by years of abuse
The strong shall inherit the meek
Get up off your praying knees
The door is about to slam shut
Armageddon drawing near
As darkness engulfs your soul.
Más abajo podrás valorar y comentar la canción Bloodstained Cross.
Puntuar 'Bloodstained Cross'
¿Qué te parece esta canción?
5,00
3 votos
* Gracias a SpoiledLucrece por haber añadido esta letra el 8/6/2011.
Comentar Letra
Comenta o pregunta lo que desees sobre Arch Enemy o 'Bloodstained Cross'
Comentarios (77)
+ Arch Enemy
Canciones del Disco
Música Relacionada