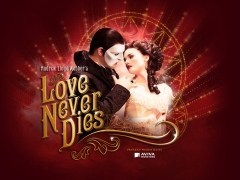 Mother Please, I'm Scared! Letra
Añadir a Favoritas
Guardar en Playlist
MOTHER PLEASE, I'M SCARED! es una canción de Love Never Dies.
Letra 'Mother Please, I'm Scared!'
(Gustave)
Mother, please, I'm scared!
What a dream,
An awful dream!
Someone strange and mad
Seizing me and drowning me!
(Christine - Spoken)
Shh! Gustave, it's all right. Come and meet a friend of mine.
(Phantom)
Welcome to
My world, my friend.
(Christine - Spoken)
Gustave, this is Mr. Y.
(Gustave)
This place is yours?
(Phantom)
Every inch of it.
(Singing)
Tell me where you'd like to go,
Tell me what you want to see,
I can grant any wish.
(Gustave)
Could you show me, if you please,
All the island's mysteries?
All that's strange and wild and dark
In the shadows of the park?
(Phantom - Spoken)
Ha ha ha ha. You shall see it all tomorrow. I promise.
(Christine)
Back to sleep now, Gustave.
(Gustave)
Yes, Mother.