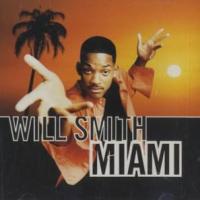 Miami
Letra y Canción
Añadir a Favoritas
Guardar en Playlist
MIAMI es una canción de Will Smith que se estrenó el , este tema está incluido dentro del disco Big Willie Style.
LETRA
'Miami'
Yeah Yeah Yeah Yeah
Miami, uh, uh
Southbeach, bringin the heat, uh
Haha, can y'all feel that
Can y'all feel that
Jig it out, uh
Here I am in the place where I come let go
Miami the base and the sunset glow
Everyday like a mardi gras, everybody party all day
No work all play, okay
So we sip a little something, lay to rest the spill
Me an Charlie at the bar runnin up a high bill
Nothin less than ill, when we dress to kill
Everytime the ladies pass, they be like (Hi Will)
Can y'all feel me, all ages and races
Real sweet faces
Every different nation, Spanish, Hatian, Indian, Jamaican
Black, White, Cuban, and Asian
I only came for two days of playing
But everytime I come I always wind up stayin
This the type of town I could spend a few days in
Miami the city that keeps the roof blazin
Chorus:
Party in the city where the heat is on
All night, on the beach till the break of dawn
Welcome to Miami
Bienvenidos a Miami
Bouncin in the club where the heat is on
All night, on the beach till the break of dawn
I'm goin to Miami
Welcome to Miami
Verse 2:
Yo I heard the rainstorms ain't nothin to mess with
But I can't feel a drip on the strip, it's a trip
Ladies half-dressed, fully equipped
And they be screamin out, (Will we loved your last hit)
So I'm thinkin I'ma scoot me somethin hot
In this south-sea merengue melting pot
Hottest club in the city, and it's right on the beach
Temperature get to ya, it's about to reach
Five-hundred degrees
In the carribean seas, with the hot mommies
Screamin (Aii poppy)
Everytime I come to town, they be spottin me
In the drop Bentley, ain't no stoppin me
So, cash in your door
We flow to this fashion show
Pound for pound anywhere you go
Yo, ain't no city in the world like this
An if you ask how I know I gotsta plead the fifth
Chorus
Verse 3:
Don't get me wrong, Shytown got it goin on
An New York is the city that we know don't sleep
An we all know that L.A. and Philly stay jiggy
But on the sneak, Miami bringin heat for real
Y'all don't understand
I never seen so many Dominican women with cinnimon tans
Mierda, this is the plan
Take a walk on the beach, draw a heart in the sand
Gimmie your hand
Damn, you look sexy
Let's go to my yacht, in the West Keys
Ride my jetskis, loungin in the palm trees
Cause you gotta have cheese for the summerhouse piece onsouthbeach
Water so clear, you can see to the bottom
Hundred-thousand dollar cars, evr'ybody got em
Ain't no surprise in the club to see Sly, Stallone
Miami, my second home
Chorus (to fade)
Sobre Miami
Este tema es la oda que Will Smith le dedica a una de las muchas capitales de las fiestas del mundo, Miami.
Esta canción alcanzó en su momento de máxima popularidad el puesto número 17 en los EE.UU.
También alcanzó el puesto número 3 en el Reino Unido y se ubicó entre los 40 primeros en varios otros países.
Uno de los productores de la canción le dijo a GQ que Nas era un escritor fantasma en la canción, pero en el mismo artículo Nas lo niega.
El tema utiliza acertadamente una muestra de la canción "And The Beat Goes On" de The Whispers.

Esta magnífica canción fue escrita conjuntamente por Tone, Poke, Ryan Toby, Leon Sylvers III, Stephen Shockley, William Shelby, Red Hot Lover Tone y Will Smith.
La canción fue lanzada con éxito en todos los medios el día 23 de noviembre del año 1998.
En la canción también se interpola magistralmente los temas "Wszyscy Święci" de MC Wojtu$ y "Miami" de Lil Finesser Prince (Ft. Playboi Gwop).
Apoyar a Will Smith
Will Smith no está entre los 500 artistas más apoyados y visitados de esta semana, su mejor puesto ha sido el 425º en junio de 2016.

¿Apoyar a Will Smith?

Ranking SemanalMedallero