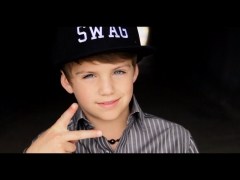 Live While We're Young
Letra, canción
LETRA
'Live While We're Young'
Hey now I'm waiting on you
I'm waiting on you
Come on and let me take you out
We'll have a celebration, a celebration
The music's up the windows down
Yeah we'll be doing what we do
Just pretending that we're cool
and we know it too
Yeah we'll be doing what we do
Just pretending that we're cool
So tonight
Let's go crazy crazy crazy
'Till we see the sun
The party's never over no it just begun
And never ever ever stop for anyone
Tonight let's have fun and live while we're young
Ohhhhhh oh oh oh
Ohhhhhh oh oh oh
Ohhhhhh oh oh oh
Tonight let's have fun
And live while we're young
Chyeah!
I'm dreaming 'bout tomorrow
Work hard play hard that's the motto
Wake up and it's on again
It's like Mac Miller said, "Yo we just some kids.."
Elementary to college
Beat's fat when I'm droppin knowledge
And my jeans are swagg
He's swagg, kicks are ballin'
All the girls at the mall call him a shopaholic
Making friends postin' vids on the Internet
Instagram that pic 'n add a new effect
Let it be known now that we're on
That we don't wanna stop... why? 'Cause we're...
Crazy crazy crazy
'Till we see the sun
The party's never over no it just begun
And never ever ever stop for anyone
Tonight let's have fun and live while we're young
Ohhhhhh oh oh oh
Ohhhhhh oh oh oh
Ohhhhhh oh oh oh
Tonight let's have fun
And live while we're young
Apoyar a Matty B
Matty B no está entre los 500 artistas más apoyados y visitados de esta semana.

¿Apoyar a Matty B?

Ranking SemanalMedallero
Matty B
Añadir Letra
Live While We're Young
Comentar
Guardar en Playlist