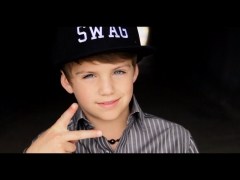 We R who we R Cover
Letra, canción
LETRA
'We R who we R Cover'
I tray it tap two I will destroy a track
So all you haters sick back
And watch me stack stats that intimidate Shaq
You talk smack 'bout MattyBRaps?
I'mma deploy this... Where my "B Girls" at?
I'm the boy that brought "B Boy" back
Wanna beef on this? Sink your teeth on that!
I'm the kid that gets grown men mad
'Cause my flow goes so next year... Why you rappin' plaid?
I'm a solo show this rad
I'm a Macy's parade while you float on fads!
Grown up are having pow wows now
'Cause they really wanna be a "Little Bow Wow" dad...
You can't manufacture that only capture that
I've got my cap turned backwards
Tonight all you haters on blast
The ones who talk trash...
We're gonna play "last laughs"!
Tonight I'm flowing hard
Taring these bars apart
So talk all that you want
B Boys and Girls are Stars
We are who we are
We're always having fun
We're setting trends a ton
We'll dance until we're done
B Boys and Girls are Stars
We are who we are
My fans are off the chain
But all these people wanna do is find something to hate
And so they call me names
And then accuse my parents of chasing fame
Is that the best you got? You brought LAME!
I hit the studio and get get it
You're just mad at the fact that you didn't
Go ahead and step off or get with it
I'm in the "A" 6-7-8 Digits!
This ain't my usual rap but when I'm under attack
I'm not afraid to bounce back with lyrical fact
There hasn't ever been a kid my age with this flow
No 7 year old to stop... then go!
Haters wanna say that there's nothing to it
Prove it then since you can do it
BEAST mode and the whole world's gonna hear me
Knock Knock... Who's there?
DISNEY....
Tonight I'm flowing hard
Taring these bars apart
So talk all that you want
B Boys and Girls are Stars
We are who we are
We're always having fun
We're setting trends a ton
We'll dance until we're done
B Boys and Girls are Stars
We are who we are
Apoyar a Matty B
Matty B no está entre los 500 artistas más apoyados y visitados de esta semana.

¿Apoyar a Matty B?

Ranking SemanalMedallero
Matty B
Añadir Letra
We R who we R Cover
Comentar
Guardar en Playlist