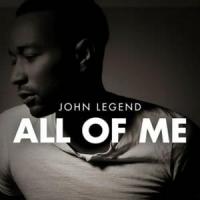 Letra de All of me
[Verse]
What would I do without your smart mouth
Drawing me in, and you kicking me out
Got my head spinning, no kidding, I can't pin you down
What's going on in that beautiful mind
I'm on your magical mystery ride
And I'm so dizzy, don't know what hit me, but I'll be alright
[Bridge]
My head's under water
But I'm breathing fine
You're crazy and I'm out of my mind
[Chorus]
'Cause all of me
Loves all of you
Love your curves and all your edges
All your perfect imperfections
Give your all to me
I'll give my all to you
You're my end and my beginning
Even when I lose I'm winning
'Cause I give you all, all of me
And you give me all, all of you
[Verse]
How many times do I have to tell you
Even when you're crying you're beautiful too
The world is beating you down, I'm around through every move
You're my downfall, you're my muse
My worst distraction, my rhythm and blues
I can't stop singing, it's ringing, I my head for you
[Bridge]
My head's under water
But I'm breathing fine
You're crazy and I'm out of my mind
[Chorus]
'Cause all of me
Loves all of you
Love your curves and all your edges
All your perfect imperfections
Give your all to me
I'll give my all to you
You're my end and my beginning
Even when I lose I'm winning
'Cause I give you all of me
And you give me all, all of you
Cards on the table, we're both showing hearts
Risking it all, though it's hard
[Chorus]
'Cause all of me
Loves all of you
Love your curves and all your edges
All your perfect imperfections
Give your all to me
I'll give my all to you
You're my end and my beginning
Even when I lose I'm winning
'Cause I give you all of me
And you give me all of you
I give you all, all of me
And you give me all, all of you
Agradecemos a CamiiLy por haber sudido la letra de All of me.
Sobre All of me
"All of Me" es el tercer sencillo y sexto tema del álbum de John Legend "Love in the Future" (2013).
La actuación de Legend fue nominada a la Mejor Interpretación Pop Solo en los Grammy de 2015.
Legend ha dicho en entrevistas que la canción fue inspirada por su apasionado amor por la modelo Chrissy Teigen, con quien se comprometió en 2011 y se casó en 2013.
La leyenda escribió este tema junto con Toby Gad.
Se ha convertido en una de las canciones más populares de Legend, obteniendo una certificación Platinum RIAA de 8x y apareciendo en la cima de las listas de éxitos de 9 países diferentes (incluyendo el US Billboard Hot 100).