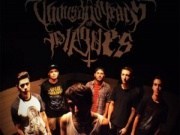 LETRA
'Xenoglosia'
Gazing through
my nebula.
The eyes are getting whiter
and how I loose my perception
during the dance of possession.
I purge all the witness in
this convulsion.
I hear those voices
inside my head
and I don't know how
they spoke to me,
just reside inside of me.
After six sessions of liberation
all I can say
is that I don't know me anymore.
Those dreams and visions of the black whole lake
where the spirits entered into me
Oh! Father of deceit
I sink my nails on my skin.
My veins are filled with poison.
I just make myself bleed
under thy influence.
Here dwells the fallen one.
My lungs are filled
with fire
and I know
there is no
hope
for
me.
Transitions of those dreams and visions
of the black whole lake
where the spirits entered into me.
Say goodbye to my human form.
I'm dressing in lust tonight
as they siphon off all my soul
and run like rivers of
living water from within
and conquered my heart
till the flesh rot,
this is the blessing of Lucifer.
Names.
Names.
Names.
Names.
Apoyar a A Thousand Years Of Plagues
A Thousand Years Of Plagues no está entre los 500 artistas más apoyados y visitados de esta semana.

¿Apoyar a A Thousand Years Of Plagues?

Ranking SemanalMedallero
A Thousand Years Of Plagues
Añadir Letra
Xenoglosia
Comentar
Guardar en Playlist