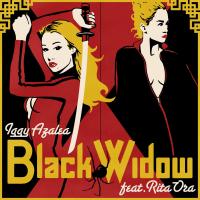 Black Widow Letra
Añadir a Favoritas
Guardar en Playlist
BLACK WIDOW es una canción de Iggy Azalea que se estrenó el , este tema está incluido dentro del disco The New Classic.
Letra 'Black Widow'
[Hook: Rita Ora]
I'm gonna love ya
Until you hate me
And I'm gonna show ya
What's really crazy
You should've known better
Than to mess with me harder
I'm gonna love ya, I'm gonna love ya
Gonna love ya, gonna love ya
Like a black widow, baby
[Verse 1]
This twisted cat and mouse game always starts the same
First we're both down to play then somehow you go astray
We went from nothing to something, liking to loving
It was us against the world, and now we just fuc***
It's like I loved you so much, and now I just hate you
Feeling stupid for all the time that I gave you
I wanted all or nothing for us, ain't no place in between
By me believing what you say that you never mean
Like it'll last for ever but now forever ain't as long
If it wasn't for you I wouldn't be stuck singing this song
You were different from my last but now you got it mirrored
And as it all plays out I see it couldn't be clearer
Now sing
[Pre-hook: Rita Ora]
You used to be, thirsty for me
But now you wanna be set free
This is the web, web that you weave
So baby now rest in peace (It's all over with now)
[Hook]
[Verse 2]
I'm gonna l-l-l-love you until it hurts
Just to get you, I'm doing whatever works
You ain't never met nobody
That will do ya how I do ya
That will bring you to your knees
Praise Jesus, hallelujah
I'ma make you beg for it, plead for it
'Till you feel like you breathe for it
'Till you'll do any and everything for it
I want you to fiend for it
Wake up and dream for it
'Till it's got you gasping for air
And you lean forward
'Till they have a CAT scan to check on your mind
And it's nothing but me, on it (on it, on it)
Now it's me time, believe that
If it's yours and you want it
I want it, promise I need that
'Till I'm everywhere that you be at
I can't fall back, go quick
Cause this here is fatal attraction
So I take it all or I don't want shhh
[Pre-hook]
[Hook]
Sobre Black Widow
Iggy Azalea reveló que "Black Widow" sería su próximo single de "The New Classic" durante una entrevista con la estación de radio de Los Ángeles Power 106 en febrero de 2014. También reveló que su amiga y compatriota Katy Perry escribió el gancho para la canción.



Iggy explicó la historia detrás de la canción en una entrevista con BUILD Series: "Bueno, Katy Perry escribió la canción, el coro con otras seis personas y originalmente estaba destinada a su álbum. Pero ella tenía "Dark Horse" que era similar a "Black Widow", así que terminó eligiendo "Dark Horse" para su álbum y me envió "Black Widow" y me dijo: '¿Podrías escribir esta canción porque quiero que sea como una canción de poder para chicas, y quiero poner a otras cuatro chicas en ella y hacer que canten y tú podrías hacer el rap?'. Le dije que sí...originalmente escribí un verso pensando que ella lo guardaría para su álbum, pero eso no sucedió y le pregunté que había pasado con la canción y ella me comentó que había decidido coger otra canción 'Caballo Oscuro''. Así que le pregunté si podía quedarme yo la canción. Ella me dijo: "No voy a decirte que puedes quedártelo, pero escribe la canción y devuélvemela...si básicamente pienso que es lo suficientemente buena para dártela, lo haré". Y escribí esos versos más de 5 o 6 veces en el transcurso de los días y se lo envié. Ella dijo: "Sí, esto es genial, sabes, tienes mi bendición, es tu canción"".