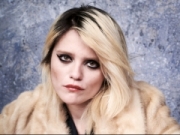 LETRA ON THE WIRE
Are you ready to sky dive?
A little walk on the wild side
Take a look at the world from 10,000 feet
And the pulse of your heart starts to skip a beat
Think you're ready to sky dive (I'll tie you up)
The devil in disguise (can't get enough)
Free-falling, we tumble into the sea
Close call and you're climbing all over me
All over me
All over you
what can you lose?
We've got no time for granted
Our parachute is landing
You shot your cannon then
I died and went to heaven
Tame me like a tiger
I wanna jump through fire
I have no fear when I'm walking on the wire
On the wire
On the wire
I wanna ride like a stallion
My royal army (???)
Hanging off of the edge, I'm invincible
Taking over the world like (???)
Sweet shot of adrenaline (I like the rush)
I wanna feel you like that again (Can't get enough)
Deep down and you fall into my abyss
That high on the rope that you never miss
Don't miss the time
Don't miss the moon
what can you lose?
We've got no time for granted
Our parachute is landing
You shot your cannon then
I died and went to heaven
Tame me like a tiger
I wanna jump through fire
I have no fear when I'm walking on the wire
(Instrumental break)
We've got no time for granted
Our parachute is landing
You shot your cannon then
I died and went to heaven
Tame me like a tiger
I wanna jump through fire
I have no fear when I'm walking on the wire
(x3)
On the wire
On the wire