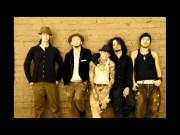 Voice /P.T.P x Taka
Letra y Canción
Añadir a Favoritas
Guardar en Playlist
VOICE /P.T.P X TAKA es una canción de Pay Money To My Pain.
LETRA
'Voice /P.T.P x Taka'
Through all of this noise
Chasing a shadow
Why looking for answers just leaves a question?
Behind the notes
And outside the lines
What you left behind
What I feel inside
I hear your voice…
Nari hibiita nanika wo shirasu tame no sairen
Hora, kyou mo koko niha mada kizukanu furishite aruku hito
Sugiyuku toki no naka ni bokura ha nani wo mitsukedashite
Mada minu mirai ni nani wo idaku koto ga dekiru?
Through all of this noise
Chasing a shadow
Why looking for answers just leaves a question?
Behind the notes
And outside the lines
What you left behind
What I feel inside
I hear your voice…
Nari owaru sono oto ha sono ato mo mada bokura no karadan naka
Zankyou ga umetsukushiteiru
Soko kara kikoete kuru mono ha kotoba ya melody dewa nakute
Ima mo boku no naka de ikiteiru kare no koe
Through all of this noise
Chasing a shadow
Why looking for answers just leaves a question?
Behind the notes
And outside the lines
What you left behind
What I feel inside
We are your voice
We are still with you
When you can't speak, with so much to say
More than a word
More than a melody
What you left behind
What I feel inside
I hear your voice…
Through all of this noise
Chasing a shadow
Why looking for answers just leaves a question?
Behind the notes
And outside the lines
What you left behind
What I feel inside
We are your voice
We are still with you
When you can't speak, with so much to say
More than a word
More than a melody
What you left behind
What I feel inside
We're not alone
Through all of this noise
Chasing a shadow
Why looking for answers just leaves a question?
Behind the notes
And outside the lines
What you left behind
What I feel inside
We are your voice
We are still with you
When you can't speak, with so much to say
More than a word
More than a melody
What you left behind
What I feel inside
I hear your voice