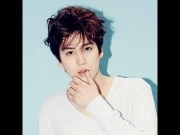 Listen.... to you
en inglés
Añadir a Favoritas
Guardar en Playlist
LISTEN.... TO YOU es una canción de Cho Kyuhyun.
LETRA
Listen.... to you (en inglés)

No, I'm not.. It really doesn't make sense
Even when I'm eating or falling asleep, I keep thinking about you like crazy
All the time I keep hating myself so badly
How could I, how could I fall in love with you? That's a bit weird

My heart hears you.. from head to toe
My friends tease me for this but my heart only listens to you
One two three, you smile and I think I lost my breath
By seeing you're smile, I'll cook with love everyday
Forever I love you love you
love you love you love you~

Why don't you stop me? Why don't you ignore me?
I feel depressed and dumbfounded but my heart only calls for you
For you I will become the god of cooking in the whistling wind
Seeing your bright smile and holdings your hands makes my heart feels happy

My heart hears you.. from head to toe
My friends tease me for this but my heart only listens to you
One two three, you smile and I think I lost my breath
By seeing you're smile, I'll cook with love everyday

I went through the night, and another night, and another night
My memories are getting blurred
But you always stay in my heart and in my smiling eyes
You're the one forever~

My heart hears you.. from head to toe
Although the whole world laughs at me, my heart only listens to you
One two three, you smile and I think I lost my breath
Stay the way you are, I'm gonna say 'I Love You' and kiss you everyday
Forever I love you love you love you
love you love you love you~

oh my baby my love