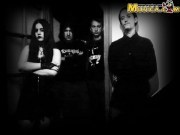 The Fading (Of The Way The Sun Shines)
LETRA
The Fading (Of The Way The Sun Shines) Letra
Hot summer got frozen
Locked in this pale light
Birds flew from here
They went away
One day they were back
They weeped me tales
From their tired eyes
They all died
Soon!
This is not a place for birds
Quiet endless dead lands
Since I have no wings, since I can't fly
From this lifted hell I won't jump
Can't stand to walk down
Those stairs again (there were even stairs?)
Like a valley coloured green
By the sunshine in a blink
Like me waiting for the wind
From her dreamy eyes to me
It doesn't matter anymore
No, I ask here for all gone
Deep in the surface of words
That doesn't reflect your world
Where is it?
Imagine it inside a frame
And the sky outside is gray
Wall paintings are falling
Like waves of lead
The ceiling is moving
Slowly to me
If nothing's worth
I'll turn it off
And then reborn
Scattered in Multiple paths to follow
Is it Static sitting here
Or standing to explode?
Fireworks in your cloud
Locked to never get out
Within a blink all lights
A time of rise
That holds aeons of fall
So enter, endless darkness
Enter, endless flame
As bits of it escape
I remember when i was young
The shine on a building rock
It used to be so colourful
How did it all went wrong?
And... what's left?
The sound of your voice fading away
As remembrances of what should have been here
What sould have been there
We all fade
Slowly
Until we die
Comparte si te ha gustado