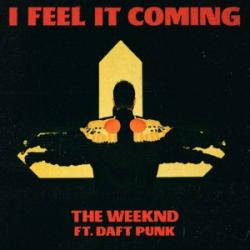 LETRA
I Feel It Coming (Letra/Lyrics)
Tell me what you really like
Baby I can take my time
We don't ever have to fight
Just take it step-by-step
I can see it in your eyes
Cause they never tell me lies
I can feel that body shake
And the heat between your legs
You've been scared of love and what it did to you
You don't have to run, I know what you've been through
Just a simple touch and it can set you free
We don't have to rush when you're alone with me
I feel it coming, I feel it coming, babe
I feel it coming, I feel it coming, babe
I feel it coming, I feel it coming, babe
I feel it coming, I feel it coming, babe
You are not the single type
So baby, this the perfect time
I'm just trying to get you high
And faded off this touch
You don't need a lonely night
So baby, I can make it right
You just got to let me try
To give you what you want
You've been scared of love and what it did to you
You don't have to run, I know what you've been through
Just a simple touch and it can set you free
We don't have to rush when you're alone with me
I feel it coming, I feel it coming, babe
I feel it coming, I feel it coming, babe
I feel it coming, I feel it coming, babe
I feel it coming, I feel it coming, babe
I feel it coming, I feel it coming, babe
I feel it coming, I feel it coming, babe
I feel it coming, I feel it coming, babe
I feel it coming, I feel it coming, babe
You've been scared of love
And what it did to you
You don't have to run
I know what you've been through
Just a simple touch
And it can set you free
We don't have to rush
When you're alone with me
I feel it coming, I feel it coming, babe
I feel it coming, I feel it coming, babe
I feel it coming, I feel it coming, babe
I feel it coming, I feel it coming, babe
I know what you feel right now
I feel it coming, I feel it coming, babe
I feel it coming, I feel it coming, babe
I feel it coming, I feel it coming, babe
I feel it coming, I feel it coming, babe
I know what you say right now, babe
I feel it coming, I feel it coming, babe
I feel it coming, I feel it coming, babe
I feel it coming, I feel it coming, babe
I feel it coming, I feel it coming, babe
I know what you say right now, babe
I feel it coming, I feel it coming, babe
I feel it coming, I feel it coming, babe
I feel it coming, I feel it coming, babe
I feel it coming, I feel it coming, babe
I feel it coming, babe
I feel it coming, babe
I feel it coming, babe
I feel it coming, babe
Datos de esta canción
I FEEL IT COMING es una canción de The Weeknd y Daft Punk que se estrenó el , este tema está incluido dentro del disco The Weeknd in Japan. Agradecemos a Veromúsica por haber sudido la letra de I Feel It Coming.
Sobre I Feel It Coming
Inspirado en el pop de los 80, "I Feel It Coming" se trata de querer más de una relación. La canción difiere de las actitudes habituales del fin de semana hacia el amor, que giran en torno a las aventuras de una noche y la diversión alegre.

Con un estribillo pegajoso pero relajado, un sonido bailable y la impresionante interpretación vocal de Abel, "I Feel It Coming" es otro tema de Weeknd que se compara con Michael Jackson.

La canción fue uno de los dos sencillos lanzados el 17 de noviembre de 2016.