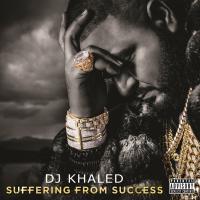 Helen Keller
Letra y Canción
Añadir a Favoritas
Guardar en Playlist
HELEN KELLER es una canción de DJ Khaled que se estrenó el , este tema está incluido dentro del disco Suffering from Success.
LETRA
'Helen Keller'
Miami! Dade County! Let's ride!
I'm from Miami, bitch, yeah, that's Miami streets
And all the haters want to push us, try to give us heat
Baby, we live in heat, so drop that shit and drop the beat
Let's party in my streets and leave the hotel room with dirty sheets
I'm no holds barred, baby, I'm gung ho
They sayin', ?Girl, you ain't Jamaican, accent's got to go?
And I say, ?Hell no, hell no?
I got Jamaica in my lungs, it's that good hydro
I got that Barbee flow, I'm feelin' irie
Party, work and chill on the beach all day
Got Corona in my hands, got that iron in my blood
Got my toes in the sand and my God is the Sun
[Hook] (x2)
I'm shakin' up the game, trying to test my luck
Living life everyday by what comes up
Yeah, I'm working on some things, getting my weight up
I'm Helen Keller to the hate, I'm sayin', ?What?, what?, what??
Yeah, yeah, yeah, uh
We in that heat wave, where people ain't phased
Workin' to get paid, this town, they don't play
The girlies like, ?Yay?, they like the heart race
White girl on a white girl's face, and oh-oh-oh
We do it for the thrills, thrills, thrills
We got enough bills, bills, bills
So keep poppin' them pills, pills, pills
I'm chillin' in my booth, feet up, V.I.P
Bring my girls to the damn party
Bro, don't touch me, I got my own money
If you want a drink for free, show my girls your body
My town likes to party all of the time
All of the time, take me down to Prime
Give me a steak, if it's bloody, that's fine
Got a roach in my pocket, took Mary J to dine
Let me clear my throat, uh (yeah, yeah)
Have mercy, babe, I hope you don't mind, mind
I'm on a fuc*** boat, uh (yeah, yeah)
And I'm thirsty babe, pass me the champagne, pagne
[Hook]