THE BURDEN
There's God
Can I feed you again?
Will I have to stay dumb?
You can feel, and it begins
But I know inside this heart attack
I can see through your eyes
I'm terrified of everything
But it's no real surprise
Because the parasites are dancing closer!
All this sacrilegion warns in posters!
Can you handle it?
In the dark
Why I think I'm alone?
I swept through my visions
I'm going too cold
Today is a tragedy
In the mouth of the mad
But that doesn't matter now
I've come relaxed
I'm curled up in a ball and shaking!
I'm hiding from the hell I'm making!
I can't believe the chance I'm taking!
Is there any other way?
Is there any other way?
The burden!
The burden!

You can't save me
There is nothing more to give!
I am changing
Almost like I never lived!
Be my witness
Just don't leave me in suspense!
Keep this, prove it
Tell them all the consequences!

The burden!
Have you ever been burdened before?
The burden!
Was there anything you wanted more?

You can't save me
There is nothing more to give!
I am changing
Almost like I never lived!
Be my witness
Just don't leave me in suspense!
Keep this, prove it
Tell them all the consequences!

Our same plea!
By now you know that looks are deceiving!
I'm covered in a rash and receding!
Is there any other way?
Is there any other way?
For Gods' sakes, we've suffered!
This pain is now our lives!
For Gods' sakes, we've suffered enough!
For Gods' sakes, we've suffered!
This pain is now our lives!
For Gods' sakes, we've suffered enough!
For Gods' sakes, we've suffered!
This pain is now our lives!
For Gods' sakes, we've suffered enough!
For Gods' sakes, we've suffered
This pain is now our lives
For Gods' sakes, we've suffered enough
Enough
Enough
Enough
fuente: musica.com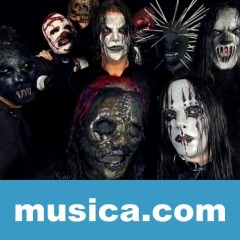 THE BURDEN
LETRAS DE SLIPKNOT
Letra añadida por:
Tuzone
Escrita por:
COREY TAYLOR,JAMES ROOT
Publicada por:
SONY/ATV MUSIC PUBLISHING LLC