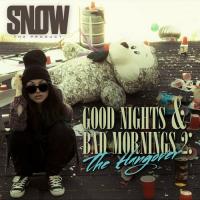 LETRA
'You're Welcome'
I mean don't think I haven't noticed I made a lot of these bitches step their game up
Or wake their game up
But I ain't even salty though, I mean
You're welcome
I'm not even gonna fuc*** blame you bitches no more
I'mma start blaming your CEO
You just wanna move up but they gas you up
Like your track's too tough then you see me flow
Then all a sudden you know that your bars chiquito
Y'all be thinking I'm too busy not to see these hoes
But I be letting bitches eat then I bet in a week
I get back killing beats, call your PBO
Send you bitches to the ward with this
See I've been taking my time
Spending money cuz I never had a dime
Now I afford to live
So I be laying back chillin' Slackin' off my prime
But lately I've been getting bored with this
I wanna go back to rappin' and distort your shit
And you whores that spit all this corny shit
To the morgue, that they won't
See you 'till you're born again
Man, they have been Googling me
Cause I've been proven to be
Something you would not of knew if I leave
She'll be suing your team, watchin' every move that I be
Thinkin' you gon' make a beauty a beast
?Cause I guess that I was too busy talking
About cookie cutter bitches
Didn't realize label heads made me
A mold and started cookie cuttin' bitches!
I tell em all like:,
You seldom
Come hotter than hell come
Come on Tech N9ne, tell them
They want beef then I bring to them well done
They *meep meep* *beep beep* derail them
And I kill them, Snow who you get a whoopin'
And I prayer from? Stay outta my shit
That's a tip dumb bitch you're welcome!
You're welcome
You're welcome
You're welcome
Bitch
Sin came within my grim brain
The way I flip, it's a fuckin' shame
In pain when I spit again mane
Shoulda been slain but the kin name in vain
F*** a Tecca Nina them sayin'
Without knowin' for sho' that he's insane
Then they stumble upon that we men banging
Ain't no choppin' with Tech when yo chin hangs ni***
A bit of marvelous, when Snow mixed with a bit of chocolate
We be giving the people lyric apocalypse
When they bit us, I put em deep in necropolis
Quick (chyeah), real sick then I hop on this chick
Plop in this slit, Tech knockin' this bitch
Giving her a lot of it, droppin' this dick, oops!
T.M.I. , got the all-seeing eye, never know
B.M.I. ni*** don't be a lie, you know she and I
Hit a motherfuckin' nerve, and gonna disturb
When given the word you deserve to be free and die
Celebrating, I drink hindo
Elevating, I see them fall
Hella wakening, woke I been raw
Have a ni*** touching everything like a pinball
More hell comes, for frail bums
Pour stale cum on your gal's tongue
Or tell some scum your fell stung
Poor sales, none, sure swelled em, you're welcome