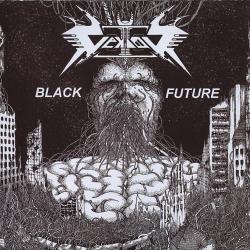 Oblivion
Vektor
La canción 'Oblivion' se estrenó en 2009. Este tema está incluido dentro del disco Black Future
LETRA
Spiraling into oblivion, mindless thoughts scream my silent cries
A shroud of blood and body parts are my demise
Shapeless moments crack my memories, a broken mirror inside my mind
The end has come, now time is empty
[Chorus:]
Souls rip through the skin into oblivion
Reborn into nothingness
Sucked through the veins of the universe flows the essence of existence
Time-cluttering, moment-shattering, voidless persistence
Aimless gazes stab through my eyes while they set their sights asunder
Lightning strikes upon me when all I've known is thunder
[Chorus]
On and on through eternity, pathway to the galaxy,
We were, we are, will we be?
Will our cries be heard, or echo endlessly?
[Chorus]
Más abajo podrás valorar y comentar la canción Oblivion.
Puntuar 'Oblivion'
¿Qué te parece esta canción?
-
0 votos
* Gracias a Tchailopikk por haber añadido esta letra el 15/5/2018.
Comentar Letra
Comenta o pregunta lo que desees sobre Vektor o 'Oblivion'
Comentar
+ Vektor
Canciones del Disco