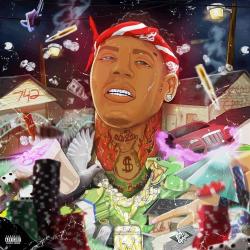 LETRA
[Intro]
Ah, ah, okay, okay, right there, right there, right there
Punch me in
Go!
[Verse 1]
Old money, (?)
Trap nigga, whole lotta bread
10 bitches, five of 'em red
Pull up, ghost
All of 'em scared
Perc' tabs, all on meds
Opposition, want 'em all dead
I don't like you, want your friend instead
Free the guys, all of 'em fed
Plug talk (hello), free throw (two shots)
Bricks in (what's that?), backboard
New whip (skrrt, skrrt), two seats
One button (uno), fast forward (gone)
Yacht Master, water on water
Show you how to ball, Coach Carter
If you ain't getting to it, then you (?)
Wanna know how
[Chorus]
On short notice, I just ran up 100
Well not 100, 97 exactly (exactly)
Living cinematic, this a world premiere
I ain't acting, but I'm fucking a actress (exactly)
Blue hunnids gang bang, they stacking
Two bitches, one me exactly
Opps on the other street that's action
Slide down, 100 round exactly
Exactly (exactly)
Look at they reaction, let's see who the maddest (big mad)
I'm smashing (what)
'Rari or Lamb'? let's see what's the fastest (skrrt)
Exactly (big drums on 'em)
Bands in the field, heritage, classic (woo)
Exactly (we the new dope)
Fed baby's like two bricks in a plastic
Hey!
[Verse 2]
(Bagg)
For that pack I want exactly what I told you
And that's closure (exactly)
Dispensary out in Colorado, keep a backwood full of doja (exactly)
Machine gun 'cross the shoulder, wake the whole house up (what)
Folgers
Shawty tripping on poster, like I'm 'posed to
She want exposure
Six cars, I'm more than mobile
Rockstar (lifestyle), I'm never sober
Shit at all, what I owe them exactly?
Two for one, only one was a baddie
Plug hit, say he having contractions
That mean yay on the way (any day)
Straight off the block to a billboard spot (charts)
That mean I'm hotter than May
[Chorus]
On short notice, I just ran up 100
Well not 100, 97 exactly (exactly)
Living cinematic, this a world premiere
I ain't acting, but I'm fucking a actress (exactly)
Blue hunnids gang bang, they stacking
Two bitches, one me exactly
Opps on the other street that's action
Slide down, 100 round exactly
Exactly (exactly)
Look at they reaction, let's see who the maddest (big mad)
I'm smashing (what)
'Rari or Lamb'? let's see what's the fastest (skrrt)
Exactly (big drums on 'em)
Bands in the field, heritage, classic (woo)
Exactly (we the new dope)
Fed baby's like two bricks in a plastic
[Outro]
Tay Keith too bangin'
fuente: musica.com

Canciones del disco

X