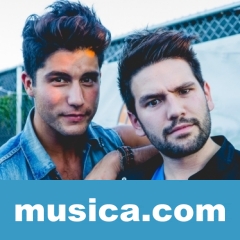 'No Such Thing' se estrenó el . Esta canción está incluida dentro del disco Dan + Shay.
LETRA 'NO SUCH THING'
Too many people in this bar
I can't hear myself think over the guitar
I can tell that you wanna get outta here and disappear, don't ya, baby?
Too many lights on in the street
I can see the way that you're looking at me
And the way you're slipping off your Jimmy Choo's, like you wanted to since we got here
Now, we're driving down the highway, pulling into my place
Got your hand over on my knee
Now that we're alone
I'm gonna let you know everything you mean to me
There's no such thing as too much money
'Cause if I had it all, I would spend it on you, honey
Time on your hands, baby, I can take it off ya, let me take it off ya
'Cause I'm love drunk
Sipping on your kiss a little too much, and I can't get enough
Like too much shine in a diamond ring, there's no such thing
There ain't no such thing
There ain't no such thing
There ain't no such thing, yeah
And just in case you didn't know
There ain't a second that I don't want you to hold your body on my body
You know it drives me crazy, don't ya, baby?
There's no such thing as too much money
'Cause if I had it all, I would spend it on you, honey
Time on your hands, baby, I can take it off ya, let me take it off ya
'Cause I'm love drunk
Sipping on your kiss a little too much, and I can't get enough
Like too much shine in a diamond ring, there's no such thing
There ain't no such thing (hey)
There ain't no such thing (hey)
There ain't no such thing, yeah, baby
There's no such thing
As too many stars in the sky
Too many hours in the night
With your body on my body, come on, baby
There's no such thing as too much money
'Cause if I had it all, I would spend it on you, honey
Time on your hands, baby, I can take it off ya, let me take it off ya
'Cause I'm love drunk
Sipping on your kiss a little too much, and I can't get enough
Like too much shine in a diamond ring, there's no such thing
There ain't no such thing
There ain't no such thing
There ain't no such thing
There ain't no such thing
There ain't no such thing
There ain't no such thing

Apoyar a Dan + Shay
Dan + Shay no está entre los 500 artistas más apoyados y visitados de esta semana.

¿Apoyar a Dan + Shay?

Ranking SemanalMedallero