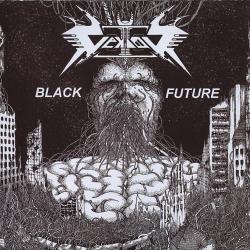 Destroying The Cosmos
Vektor
La canción 'Destroying The Cosmos' se estrenó en 2009. Este tema está incluido dentro del disco Black Future
LETRA
Waves of light, shooting through night,
The void destroyed,
Eons of terror emerge from the realms to deploy,
Big bang, life and death collide at infinite reaches,
Spawned from eternity, we are the creatures of void.
[Chorus:]
The cosmos, a flicker of the past,
The cosmos, infinity at last.
Arise, into the night,
Invasion of the twilight.
Doomingly slow, destruction will follow,
The balance is tipping, evil is falling low,
A rippling in time as a new dawn unwinds,
A galactic species takes off and leaves from its confines.
[Chorus]
The time has come,
The end is near,
For anything, that is not us.
Más abajo podrás valorar y comentar la canción Destroying The Cosmos.
Puntuar 'Destroying The Cosmos'
¿Qué te parece esta canción?
-
0 votos
* Gracias a Tchailopikk por haber añadido esta letra el 3/12/2018.
Comentar Letra
Comenta o pregunta lo que desees sobre Vektor o 'Destroying The Cosmos'
Comentar
+ Vektor
Canciones del Disco