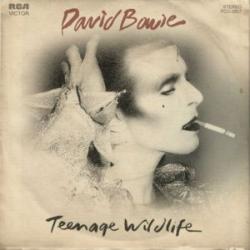 Teenage Wildlife
David Bowie
Añadir a Favoritas
La canción 'Teenage Wildlife' se estrenó el . Este tema está incluido dentro del disco Scary Monsters (and Super Creeps)
Al final de la letra de la canción 'Teenage Wildlife' podrás puntuar su calidad, comentar sobre ella, acceder a más lyrics de David Bowie y a música relacionada.
LETRA
Well, how come you only want tomorrow
With its promise
Of something hard to do
A real life adventure
Worth more than pieces of gold
Blue skies above
And sun on your arms
Strength in your stride
And hope in those squeaky clean eyes
You'll get chilly receptions
Everywhere you go
Blinded with desire
- guess the season is on
So you train by shadow boxing
Search for the truth
But it's all, but it's all used up
Break open
Your million dollar weapon
And you push , still you push
Still you push your luck
A broken nosed mogul are you
One of the New Wave boys
Same old thing in brand new drag
Comes sweeping into view, oh-ooh
As ugly as a teenage millionaire
Pretending it's a whizz kid world
You'll take me aside, and say
"Well, David, what shall I do?
They wait for me in the hallway"
I'll say "Don't ask me, I don't know any hallways"
But they move in numbers and they've got me in a corner
I feel like a group of one, no-no
They can't do this to me
I'm not some piece
Of teenage wildlife
Those midwives to history put on their bloody robes
The word is that the hunted one is out there on his own
You're alone for maybe the last time
And you breathe for a long time
Then you howl like a wolf in a trap
And you daren't look behind
You fall to the ground
Like a leaf from the tree
And look up one time
At that vast blue sky
Scream out aloud as they shoot you down
No no
I'm not some piece
Of teenage wildlife
I'm not a piece of teenage wildlife
And no one will have seen
And no one will confess
The fingerprints will prove
That you couldn't pass the test
There'll be others
On the line filing past
Who'll whisper low
I miss you he really had to go
Well each to his own, he was
Another piece of teenage wildlife, oh-oh-oh-oh
Another piece of teenage wildlife, oh-oh-oh-oh
Another piece of teenage wild
Wild
Wild...

Más abajo encontrarás canciones relacionadas con Teenage Wildlife.
Puntuar 'Teenage Wildlife'
¿Qué te parece esta canción?
-
0 votos
* Gracias a ChamLee por haber añadido esta letra el 17/1/2019.
Comentar Letra
Comenta o pregunta lo que desees sobre David Bowie o 'Teenage Wildlife'
Comentarios (29)
+ David Bowie
Canciones del Disco