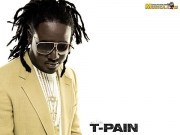 LETRA
Hey, I know you waitin' on me, baby, can you hold on?
Just make sure when I get there, you ain't got clothes on
'Cause you gon' ride that dick to a slow song
You got me and I got you, now what can go wrong?
And you keep tellin' all your friends about me
And now they wanna get it in on the balcony
We goin' all night, girl, I'm talkin' so long
I got that wake up for you, baby, make sure everybody in here...

Getcha roll on, getcha roll on
Everybody, everybody, getcha roll on
Getcha roll on, getcha roll on
Everybody, everybody, getcha roll on
Now you keep tellin' all your friends about me
And now they wanna get it in on the balcony
So getcha roll on, getcha roll on
Everybody, everybody, getcha roll on
Hey, yeah, I got like four phones
The AC in the Mini Cooper blowin' snow cones
I got like five bad chicks, don't wanna go home
Yeah, it's a vibe, it's a vibe, yeah, I'm so gone
'Cause I've been puttin' in that work and now it's time to chill
And my bitches came through with all kind of pills
I told her, I get too high and then I'ma sext her
And she was like a-woah, a-yeah, a-Dexter
I be like, bitch, don't kill my vex, huh
Unless you wanna get in that UberX
All I do is just sit back and count checks, uh
But I be losin' count, I'm on that Hennessy XO, blur, blur
The wrist full of ice (Yeah), the neck on freezer burner (Ooh)
Keep on talkin' shit and I'ma have to get the burner (Ooh)
Bitch, keep lookin' at me, I'ma have to go and learn ya
I get shit straight like a perm, bruh (Yeah, yeah)

I know you waitin' on me, baby, can you hold on?
Just make sure when I get there, you ain't got clothes on
'Cause you gon' ride that dick to a slow song
You got me and I got you, now what can go wrong?
And you keep tellin' all your friends about me
And now they wanna get it in on the balcony
We goin' all night, girl, I'm talkin' so long
I got that wake up for you, baby, make sure everybody in here...
Getcha roll on, getcha roll on
Everybody, everybody, getcha roll on
Getcha roll on, getcha roll on
Everybody, everybody, getcha roll on
Now you keep tellin' all your friends about me
And now they wanna get it in on the balcony
So getcha roll on, getcha roll on
Everybody, everybody, getcha roll on

I know this 1942, it got you so gone
Nah, this ain't a interview, ain't shit to prolong
She let me touchdown, I tell her go long
I get to lickin', I be in it for the whole song
She take them pants off, Luther Vandross
Come and get it, baby, do it with your hands off
You gon' get it like I put it in the hand-off
Get to shootin' in that pussy like a standoff
Super lit, lit (Lit), she ain't average (She ain't average)
Hit a split on the dick, she a savage (She a savage)
She get on top of me and start doin' gymnastics
She clean as ever but I love when she get nasty
Might even let her run right through this check
When I'm with you, I'm flexin' on my ex
That's why I let you come on the road, might even fuck at the show
I got too nasty with your girl, now you can't fuck her no more

Yeah, I know you waitin' on me, baby, can you hold on?
Just make sure when I get there, you ain't got clothes on
'Cause you gon' ride that dick to a slow song
You got me and I got you, now what can go wrong?
And you keep tellin' all your friends about me
And now they wanna get it in on the balcony
We goin' all night, girl, I'm talkin' so long
I got that wake up for you, baby, make sure everybody in here...

Getcha roll on, getcha roll on
Everybody, everybody, getcha roll on
Getcha roll on, getcha roll on
Everybody, everybody, getcha roll on
Now you keep tellin' all your friends about me
And now they wanna get it in on the balcony
So getcha roll on, getcha roll on
Everybody, everybody, getcha roll on
fuente: musica.com

Compartir la letra 'Getcha Roll On'