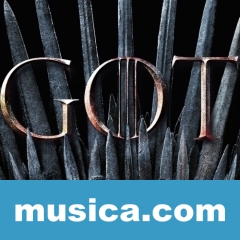 The House of Black and White
LETRA
Arya approaches the coast in the boat she boarded in the Season 4 finale. The Titan of Braavos looms over the ship.

BRAAVOSI MAN: In the old times, whenever Braavos stood in danger, the titan would step with fire in his eyes. He'd wade into the sea and smash the enemies.

ARYA: He's just a statue.

A horn blows as they approach the statue. Arya clutches her chest and the man laughs.

MAN: Don't be afraid. He's announcing our arrival.

ARYA: I'm not afraid.

Boat goes under statue

EXT. BRAAVOS - RAGMAN HARBOR

Arya and the man are in a row boat. The man rows them to shore as they pass various street merchants. The man rows past them and The House of Black and White comes into view.
MAN: The House of Black and White: this is where you'll find the man you seek.

EXT. BRAAVOS - THE HOUSE OF BLACK AND WHITE

They arrive at The House of Black and White

MAN: Here, I leave you.

He helps Arya get off the boat and onto the dock.

ARYA: Thank you for bringing me.

MAN: Any man of Braavos would have done the same. Valar morghulis.

ARYA: Valar dohaeris.

Arya knocks on the door, twice; the door opens while knocking the second time. An old man enters

ARYA: Hello. Valar Morghulis.

The old man continues to stare; Arya takes out the coin.

ARYA: Jaqen H'ghar gave me this.

OLD MAN: No one here by that name.

The old man is about to close the door before Arya interrupts.

ARYA: Please. I crossed the Narrow Sea. I have nowhere else to go.

OLD MAN: You have everywhere else to go.

ARYA: But wait!

The Old Man shuts the door abruptly; Arya turns around and sits on the top step
EXT. HOUSE OF BLACK AND WHITE - NIGHT

ARYA: Cersei, Walder Frey, The Mountain, Meryn Trant. Cersei, Walder Frey, The Mountain, Meryn Trant.

Arya repeats the four names until the break of dawn as rain pours outside.

EXT. HOUSE OF BLACK AND WHITE - DAY

ARYA: ...The Mountain, Meryn Trant.

Arya gets up and throws the coin into the sea
fuente: musica.com


X