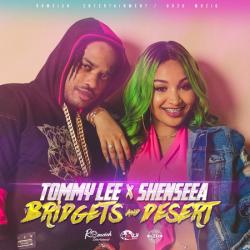 Bridgets & Desert Pon Foot
Shenseea
ft.
Tommy Lee Sparta
LETRA
A Tommy Lee
Raaaaaayyyyyyyyy
A Shenseea
A Represent
Raaaaaayyyyyyyyy
Fi di thugs and di gyal dem
Bridgets pon foot and, and
Bridgets pon foot foot
Desert pon foot and, and
Desert pon foot foot
Bridgets pon foot and money inna bag
Any bloodclaat ting me want
Dat me ago have
Big house pon de hill
Dat ano di cliche
Mi have three pussyclaat place
Where me can stay
Dem a pree and a talk
And a watch you everyday
Dem [?] support
Can't [?] a play
When you a make move
Dem a pussy can't play
What dem know about
You girl?
Gyal yuh come in like mas camp
When nuttin nah gwan
No, me nah boring
You nuh comin like JamWorld
Weh nuff man go perform
Me nuh have a bag a man
One man to ya pum pum
A suh you stay from ya born
Raaaaaayyyyyyyyy
One man to mi pum pum
A so ya tun gyal
Bridgets pon foot and, and
Bridgets pon foot foot
Desert pon foot and and
Desert pon foot
Come in an kill it
Tell duppy conquer
tell duppy boy bag
Fi ya new brand shoes
No coulda neva stop
Step hot like peppa
Some gyal haffi catch up
Stevie Wonder to price
Mi just walk and tek up
Bridgets pon foot
So ya did stay
And ya naffi bend over
Fi ya boss pay
No boy cant put me out
He haffi go di other way
Caw mi did a pay
When a block did a lay
Gyal yuh come in like mas camp
When nuttin nah gwan
No, me nah boring
You nuh comin like JamWorld
Weh nuff man go perform
Me nuh have a bag a man
One man to ya pum pum
A suh you stay from ya born
Raaaaaayyyyyyyyy
One man to mi pum pum
A so ya tun gyal
Bridgets pon foot and, and
Bridgets pon foot foot
Desert pon foot and, and
Desert pon foot foot
Haha
Well clean when me step inna di scene
Mi ah mi gyal deh a straight Louis V
Sparta mi seh
Watch suede pon mi feet
Clean full a gyal
Example di beach
Jet lag top bare money in a di place
Pure top gyal in a de place
Pass di lighta me haffi bun a spliff
Shenseea tell dem how we leff
Money in a bag, bag, bag
Mi have money in a bag, bag
Tommy Lee have money in a bag
Any bloodclaat ting me want
Dat me ago have
Have have have have
Any bloodclaat ting me want
Dat me ago have
Have have have have
Bri-Bri-Bridgets pon foot and, and
Bridgets pon foot foot
Raaaaaayyyyyyyyy
Desert pon foot and and
Desert pon foot foot
Gyal yuh come in like mas camp
When nuttin nah gwan
No, me nah boring
You nuh comin like JamWorld
Weh nuff man go perform
Me nuh have a bag a man
One man to ya pum pum
A suh you stay from ya born
Raaaaaayyyyyyyyy
One man to mi pum pum
A so ya tun gyal

fuente: musica.com


X