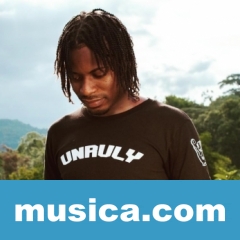 Flavours
LETRA
Flavours Letra
I got the flavour
Gyal dem love me like the Saviour
Bad gyal weh nah no behaviour
Just a whine a galang so
Chimney
I got the flavour
Gyal skirt a lif' up like a vapour (whoo!)
One ever deh inna the chamber
When the strike force a roll out
How me dweet?!
Yo, breezy, breezy
And me dweet so easy, jeezam peezy
Man a flow like Weezy, a no Jeezy
Cyaan be no gyallis and your foot cheesy
Gyal a bubble pan the Teelie when me a wheelie
Rub your tittie like a genie, mattress a sealy
Which gyal me fi call, eenie, meenie, minie, mo
Govie, weh you find this flow?
Dem know how the thing go (thing go)
Anyweh me go, me haffi bingo (yah)
The dawg a no Lassie, a no Ringo
Full a more flavours than Wisynco (heh)
Dem know how the thing go
Gyal see me and a whine up window
Cologne mek your gyal nose-bridge a limbo
So high, cah the kush grow indoor (indoor)
Jordan, me say alright, live some star life
Michelin 'pon the R bike, yeah the fast type
Man sharp like a hawk eye, shoes off white
National a Genna Genna, dem a small fries
Uh huh, uh huh
Boss life, pretty raas wife
Gyal a tell me in a soft voice, say the sauce nice
If dem violate, dim the place, park light
Dem swear say dem score when we check no offside!?
Dem know how the thing go (thing go)
Anyweh me go, me haffi bingo (bingo)
The dawg a no Lassie, a no Ringo
Full a more flavours than Wisynco (heh)
Dem know how the thing go
Gyal see me and a whine up window
Cologne mek your gyal nose-bridge a limbo
So high, cah the kush grow indoor (indoor)
It easy like GSAT (yeah)
Messi touch the road with the G-lock (yeah)
New York, Miami, T-dot (yeah)
Gyal waan squeeze me like sweet sop (uh huh)
Every gyal a get wild when the beat drop (yeah)
A real Genna gyal haffi real hot (yeah)
Mini 'K that a whistle like teapot
Clap four like Fat Joe
Me see bay man a 'Lean Back'
Dem know how the thing go
Anyweh me go, me haffi bingo
The dawg a no Lassie, a no Ringo
Full a more flavours than Wisynco (heh)
Dem know how the thing go
Gyal see me and a whine up window
Cologne mek your gyal nose-bridge a limbo
So high, cah the kush grow indoor (indoor)
Know how the thing go
I-I got the flavour
Know how the thing go
Gyal dem love me like the Saviour
Dem know how the thing go
Gyal see me and a whine up window
Know how the thing go
Full a more flavours than Wisynco
Dem know how the thing go (thing go)
Anyweh me go, me haffi bingo (bingo)
The dawg a no Lassie, a no Ringo
Full a more flavours than Wisynco (heh)
Dem know how the thing go
Gyal see me and a whine up window
Cologne mek your gyal nose-bridge a limbo
So high, cah the kush grow indoor (indoor)

Comparte si te ha gustado