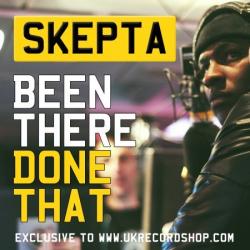 Solo's Back
Skepta ft. Frisco y Solo 45
LETRA
Solo's Back Letra
Yo, forget the C, B and A-list
We don't wanna put this on a playlist
Didn't wanna let Boy Better Know through
That's why man run up in the house like bailiffs
We come through new cars and clothes
Now bakers wanna know how we make dough
I keep telling 'em 'Boy Better Know'
Oh yeah Solo's back on road
Puh-puh-puh-puh-pum-pum pumpin' again
They tried to stop me but I'm pumping again
The Tottenham cowboy's outta the pen
Best go halves on a leng
Told them already, I'll repeat it
What you thought I was gonna say 'told them again?'
Bet you fooled like a wasteman again
But don't watch that bruddah
Still can't take 45 for a charm
No way blud I ain't no punk
I'll run up in the crib with the pump
Then puh-puh-puh-puh-pump
You can't take 45 for a charm
No way blud I ain't no punk
I'll run up in the crib with the pump
Then puh-puh-puh-puh-pump
So I dare one of these MCs say suttin'
45's back in the place say nuttin'
Trust me, I ain't talking about press though when I say Solo's gonna press button
I dare one of these MCs say suttin'
45's back in the place say nuttin'
Trust me, I ain't talking about press though when I say Solo's gonna press button
I'm looking at the music scene, it's changed so much who are all these chiefs?
Half of these guys should've dead by now
Yo wagwarn, where's the killer MCs?
Nah, I ain't backing your beef if you're sending me dough for canteen
Attempted murder charge at 19
Three months later, Section 18
Blud I had one shank, two shank, and two others
One in my pillow, one in my covers
Gave another couple to my London brothers
My mandem, absolute nutters
Who had the shanks? The fastest runners
Boy Better Know I'll boy you better
Deal with man and I'll leave man butters, overly butters
Alright then
So I dare one of these MCs say suttin'
45's back in the place say nuttin'
Trust me, I ain't talking about press though when I say Solo's gonna press button
I dare one of these MCs say suttin'
45's back in the place say nuttin'
Trust me, I ain't talking about press though when I say Solo's gonna press button
Yo I used to rob these sort of guys, dude, I got the big 45
Rob my man, go home have a bath, then cream myself with E45
Change from Adidas into a Nike
Park up the [?], throttle the bike
I am the muckiest man in sight
Who can chat to me? Come on chat to me
I'll bump man like mosquito bites, ok, ok, uh-huh, alright
When I get close to the stars like Neil Armstrong, [?]3
I think you're in for a fight
Can't come around if your clique ain't tight
Drawing 3's and hit the bullseye
I make everybody scream, 180!
So I dare one of these MCs say suttin'
45's back in the place say nuttin'
Trust me, I ain't talking about press though when I say Solo's gonna press button
I dare one of these MCs say suttin'
45's back in the place say nuttin'
Trust me, I ain't talking about press though when I say Solo's gonna press button
So I dare one of these MCs say suttin'
45's back in the place say nuttin'
Trust me, I ain't talking about press though when I say Solo's gonna press button
I dare one of these MCs say suttin'
45's back in the place say nuttin'
Trust me, I ain't talking about press though when I say Solo's gonna press button

Comparte si te ha gustado