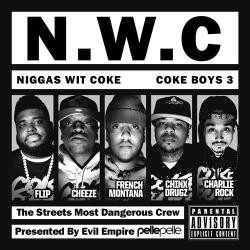 Ballin
French Montana
ft.
Charlie Hustle
y
Rick Ross
La canción 'Ballin' se estrenó en 2012. Este tema está incluido dentro del disco Coke Boys 3
Al final de la letra de la canción 'Ballin' podrás puntuar su calidad, comentar sobre ella, acceder a más lyrics de French Montana y a música relacionada.
LETRA
My cocaina, come manana
So I could blow a couple dollars
She see these diamonds on my collar
She wanna f*** a fuc*** baller
Ballin, She wanna f*** a fuc*** baller Ballin, Kilos in the attic chico
But of course shorty sore for like 8 weeks
You know I beat the pu*** up like them Dre beats
Its only right shorty fuc*** with a fuc*** baller
If its black card baby gon f*** tomorrow
Here's 10 stacks, feel like I bought her
But f*** it, me and Cafe' just left the border
5 million dollar house and I ain't talkin slaughter
Talkin paid in full bitch and I ain't talkin Porter
And that ghost got a stash box in it
200 on the dash fly by cops with her (Like ayye)
I be ghost ridin, got them hoes smilin
Bought that bitch a smart car now we both ridin

I get it from me prima
Yall niggas might have seen her
The cokin cowboys, they goin' La Marina
You f*** up her money, Oooh mama mia
Rather be burnt with gonorrhea
Than cursed with santeria
These my nina for that white girl like Chritsina's nina
Oops I mean nino, all the white boys
You know gardio, or like Rozay say that cocaina
Whip it back in the cocina (now we)
[Hook]

Más abajo podrás valorar y comentar la canción Ballin.
Puntuar 'Ballin'
¿Qué te parece esta canción?
-
0 votos
* Gracias a XaviBarna por haber añadido esta letra el 7/6/2019.
Comentar Letra
Comenta o pregunta lo que desees sobre French Montana o 'Ballin'
Comentar
+ French Montana
Canciones del Disco
Música Relacionada