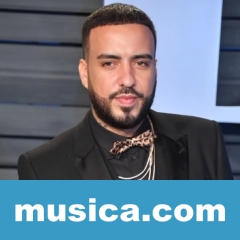 LETRA
Ya, Montana, Fraud, uh
Coke Boy, uh
Real niggas count money gettin' high
Brick by brick, build the empire
I just turned the neighbor on
Young kings gettin' paper
Count money gettin' high
Brick by brick, build the empire
I just turned the neighbor on
Young kings gettin' paper
You don't believe it, gotta watch it and see
Half of my bitches richer than me
Young American me
Shit be scary to see
Beverly Hills
Ain't goin' to terrace and peak
I hope your cameras can see
Elephant balls and lion heart
Came to win, we ain't tryna talk
Kinda shit you tryna start
When there's no one live by the boat
I blow up Mussain on this smoke
Jet fuel plane boat
Flood my watch face with the crystal meth
No tenth spray nigga
Grown man cape nigga
I can't believe that I made it happen
365, countin' up money was my exercise
Skipped school for the crib with the pool
They respect education
Pour liquor, gettin' wasted
Baby in the water now, fine as shit
Vip to that fast money, bad hoe and fly shit
Fame will kill you faster than the bullet
[?] invisible bullet
Ski mask and hoody
Don't waste my time, change the dollar bill
Pink Floyd, [?] hills
Smoke fills 'fore wheels, tires screechin' ruber
Turn them headlines to front covers
Haters turn to fans, fans turn to haters
Grands turn to papers, haters turn to nevers
Montana!
Real niggas count money gettin' high
Brick by brick, build the empire
I just turned the neighbor on
Young kings gettin' paper
Count money gettin' high
Brick by brick, build the empire
I just turned the neighbor on
Young kings gettin' paper

fuente: musica.com


X