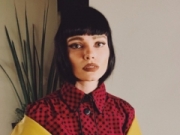 Break My Broken Heart
Letra y Canción
Añadir a Favoritas
Guardar en Playlist
BREAK MY BROKEN HEART es una canción de Winona Oak del año 2019.
LETRA
'Break My Broken Heart'
If I could I would've warned you
But it's scaring me how it all can't stop
It's so easy till there's no way out
If I could I wouldn't tell you
But it honestly doesn't matter much
'Cause I know you probably figured out
Fools falling in the dark like crazy
You know, nothing you can do will save me
No, might as well
Break my broken heart
Give me all you got, all you got
Break my broken heart
Watch me fall apart, fall apart
Ooh-ooh, ooh-ooh, I'm still breathing
Ooh-ooh, ooh-ooh, so what's one more scar?
Break my broken heart
Can we be this way forever?
Got your silhouette locked inside my head
Can we be the ones to last as stone?
Fools falling in the dark like crazy
You know, nothing you can do will save me
No, might as well
Break my broken heart
Give me all you got, all you got
Break my broken heart
Watch me fall apart, fall apart
Ooh-ooh, ooh-ooh, I'm still breathing
Ooh-ooh, ooh-ooh, so what's one more scar?
Break my broken heart
Go on, go on
Go on, go on
Go on, go on
Break my broken heart
Give me all you got, all you got
Break my broken heart
Watch me fall apart, fall apart
Ooh-ooh, ooh-ooh, I'm still breathing
Ooh-ooh, ooh-ooh, so what's one more scar?
Break my broken heart