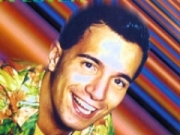 One Two Three (with Radiorama)
Letra
LETRA
One Two Three (with Radiorama) (Letra/Lyrics)
Easy to pretendin'
Love is never endin'
All I want is talkin' to you
I don't wanna loose you
I will never use you
Come on baby waitin' for me
Open your heart there's light in the dark
There's only a sign you can see
Open your heart 'cause I can really love
Open your heart just for me
1, 2, 3 don't waste a minute
Come to me
1, 2, 3, easy to give it
Come to me, wanna make it all right!
I can't keep the illusion
Love is so confusion
All want is talkin' to you
You've got to be strong
Wait me for so long
Come on baby hold on for me
Open your heart there's a way in the dark
There's only a light you can see
Open your heart I will drive all the night
Open your heart just for me
1, 2, 3, don't waste a minute
Come to me
Datos de esta canción
ONE TWO THREE (WITH RADIORAMA) es una canción de Max Coveri. Agradecemos a shemkasai por haber sudido la letra de One Two Three (with Radiorama).