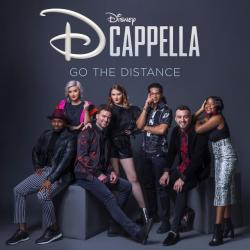 Go the Distance LETRA
DCappella
'Go the Distance' se estrenó el .
Al final de la letra de Go the Distance podrás comentar sobre ella o acceder a más canciones de DCappella y a música relacionada.
I have often dreamed of a far-off place
Where a great, warm welcome would be waiting for me
Where the crowds will cheer when they see my face
And a voice keeps saying, this is where I'm meant to be
I'll be there someday, I can go the distance
I will find my way, if I can be strong
I know every mile will be worth my while
When I got the distance i"ll be right where I belong
Down an unknown road, to embrace my fate
Though that road may wander, it will lead me to you
And a thousand years, would be worth the wait
It might take a lifetime, but somehow I'll see it through
And I won't look back, I can go the distance
And I'll stay on track, no I won't accept defeat
It's an uphill slope, but I won't lose hope
'Til I go the distance, and my journey is complete
But to look beyond the glory is the hardest part
For a hero's strength is measured by his heart
Like a shooting star, I will go the distance
I will search the world, I will face its harms
I don't care how far, I will go the distance
'Til I find my hero's welcome, waiting in your arms
Más abajo encontrarás canciones relacionadas con Go the Distance.
Puntuar 'Go the Distance'
¿Qué te parece esta canción?
-
0 votos
* Gracias a Vitolín por haber añadido esta letra el 18/9/2020.
Comentar Letra
Comenta o pregunta lo que desees sobre DCappella o 'Go the Distance'
Comentar
+ DCappella