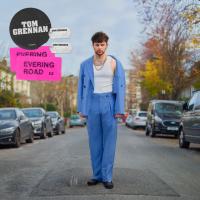 Something Better
Letra y Canción
Añadir a Favoritas
Guardar en Playlist
SOMETHING BETTER es una canción de Tom Grennan que se estrenó el , este tema está incluido dentro del disco Evering Road.
LETRA
'Something Better'
(Better)
(Better)
I got money on my mind
Is it day or is it night?
Am I lost or hard to find
Or should I be done?
I feel like I've been here before
Has somebody changed the clocks?
Is loving it breaking the law
Should I be done?
Tell me now
Is it a problem if I ain't gon' slow it on down?
I do what I wanna when I wanna
How, how you gon' say I should get my head out of the clouds?
There ain't nobody that's bringing me down
I know what I want, it's as clear as the day, yeah
So nobody try wipe the smile off my face, nah
And give it a go, you might just like the taste
They're telling me I should be giving it up
But honestly, I don't think I'll ever find something better, better
Better, honestly, I don't think I'll ever find something better
I tried a couple of months to see if I could up my funds
Without you it's no fun, I should've been strong
And when I'm at my lowest, you pick me up, you notice
I'll be the one to blow it all on your love
Tell me now
Is it a problem if I ain't gon' slow it on down?
I do what I wanna when I wanna
How, how you gon' say I should get my head out of the clouds?
There ain't nobody that's bringing me down
I know what I want, it's as clear as the day, yeah
So nobody try wipe the smile off my face, nah
And give it a go, you might just like the taste
They're telling me I should be giving it up
But honestly, I don't think I'll ever find something better, better
Better, honestly, I don't think I'll ever find something better, better
Better
I can't let you go, nah, nah, nah
You're all that I know, nah, nah, nah
I can't let you go, nah, nah, nah
You're all that I know
I know what I want, it's as clear as the day, yeah
So nobody try wipe the smile off my face
And give it a go, you might just like the taste
They're telling me I should be giving it up
But honestly, I don't think I'll ever find something better, better
Better, honestly, I don't think I'll ever find something better, better
They're telling me to try giving it up
But honestly, I don't think I'll ever find something better