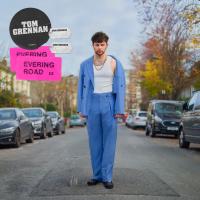 Oh Please
Letra y canción
Añadir a Favoritas
Guardar en Playlist
OH PLEASE es una canción de Tom Grennan del año 2021, este tema está incluido dentro del disco Evering Road.
LETRA
'Oh Please'
Oh you took your time, three years off my mind
Then you sit there like it's nothing
And the one I'll lose with her back to you
She don't have a clue you're laughing
Why you back here now?
Wanna spend my pound
Weren't it me who did the running?
You'll have a few new lines, where the sun don't shine
Crack a smile but it ain't funny
I feel closer, way closer
It's like the year's gone up in smoke
We're closer, way closer
But the way I feel
Ain't nothing I ain't felt before
And the way I feel
I'll keep it under my control
I'll forget about you in the morning
I'll sleep you off and wake with my mind at ease
Your 3 am call, I'll ignore it
I'll sleep you off and wake with my mind at ease
Oh please
So tell me what went on
Did he touch you wrong?
Was I getting harder to remember?
What you have in mind, shall we tell this time?
Or are we two not so young offenders?
So you catch a flight
See if the fire would light
I'm your man, I'm your money lender
Might be happy now, but don't turn around
Let's just have one more time together
Feel closer, way closer
It's like the year's gone up in smoke
We're closer, way closer
But the way I feel
Ain't nothing I ain't felt before
And the way I feel
I'll keep it under my control
I'll forget about you in the morning
I'll sleep you off and wake with my mind at ease
Your 3 am call, I'll ignore it
I'll sleep you off and wake with my mind at ease
Oh please
Feel closer, way closer
It's like the year's gone up in smoke
We're closer, way closer
It's like the feeling don't get old
And I told ya, I told ya
You're the money
You're the chest of gold
Feel closer, way closer
But the way I feel
Ain't nothing I ain't felt before
And the way I feel
I'll keep it under my control
I'll forget about you in the morning
I'll sleep you off and wake with my mind at ease
Your 3 am call, I'll ignore it
I'll sleep you off and wake with my mind at ease
Oh please