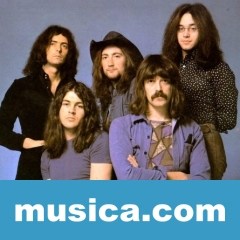 7 And 7 Is
Deep Purple
Al final de la letra de la canción '7 And 7 Is' podrás puntuar su calidad, comentar sobre ella, acceder a más lyrics de Deep Purple y a música relacionada.
LETRA
When I was a boy I thought about the times I'd be a man
I'd sit inside a bottle and pretend that I was in the can
But here in my lonely room I'd sit my mind in an ice cream cone
You can throw me if you wanna 'cause I'm a bone and I go
Oop-ip-ip, oop-ip-ip, yeah!
Well if I don't start crying it's because that I have got no eyes
My father's in the fireplace and my dog lies hypnotized
Through a crack of light I was unable to find my way
Trapped inside a night but I'm a day and I go
Oop-ip-ip oop-ip-ip, yeah!
Más abajo encontrarás canciones relacionadas con 7 And 7 Is.
Puntuar '7 And 7 Is'
¿Qué te parece esta canción?
-
0 votos
* Gracias a Vitolín por haber añadido esta letra el 13/10/2021.
Comentar Letra
Comenta o pregunta lo que desees sobre Deep Purple o '7 And 7 Is'
Comentarios (77)