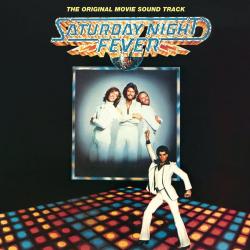 LETRA
Night Fever (Letra/Lyrics)
Listen to the ground
There is movement all around
There is something goin' down
And I can feel it
On the waves of the air
There is dancin' out there
If it's somethin' we can share
We can steal it
And that sweet city woman
She moves through the light
Controlling my mind and my soul
When you reach out for me
Yeah, and the feelin' is right
Then I get night fever, night fever
We know how to do it
Gimme that night fever, night fever
We know how to show it
Here I am
Prayin' for this moment to last
Livin' on the music so fine
Borne on the wind
Makin' it mine
Night fever, night fever
We know how to do it
Gimme that night fever, night fever
We know how to show it
In the heat of our love
Don't need no help for us to make it
Gimme just enough to take us to the mornin'
I got fire in my mind
I get higher in my walkin'
And I'm glowin' in the dark
I give you warnin'
And that sweet city woman
She moves through the night
Controlling my mind and my soul
When you reach out for me
Yeah, and the feelin' is right
Then I get night fever, night fever
We know how to do it
Gimme that night fever, night fever
We know how to show it
Here I am
Prayin' for this moment to last
Livin' on the music so fine
Borne on the wind
Makin' it mine
Night fever, night fever
We know how to do it
Gimme that night fever, night fever
We know how to show it
Gimme that night fever, night fever
We know how to do it
Gimme that night fever, night fever
We know how to show it
Gimme that night fever, night fever
We know how to do it
Datos de esta canción
NIGHT FEVER es una canción de Bee Gees que se estrenó el , este tema está incluido dentro del disco Saturday Night Fever: The Original Movie Sound Track.
Sobre Night Fever
"Night Fever" es el tercer tema de la banda sonora de la película de 1977 Saturday Night Fever.
La introducción de las cuerdas fue inspirada por "Theme From A Summer Place" de Percy Faith, según el tecladista Blue Weaver.
Blue Weaver dijo lo siguiente: "'Fiebre Nocturna' empezó porque Barry entró una mañana cuando yo estaba tratando de hacer algo. Siempre quise hacer una versión discográfica de 'Theme From A Summer Place' de The Percy Faith Orchestra o algo así, fue un gran éxito en los años sesenta. Yo estaba tocando eso, y Barry dijo, '¿Qué fue eso? y yo dije, 'Tema de Un Lugar de Verano' y Barry dijo, 'No, no lo fue'. Fue el nuevo Barry quien escuchó la idea, yo la estaba tocando en un sintetizador de cuerdas y canté el riff sobre ella".