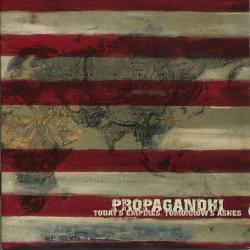 Ego Fum Papa (i Am The Pope)
Letra
LETRA
Ego Fum Papa (i Am The Pope) (Letra/Lyrics)
"live like an angel, die like a devil." don't let it worry you, we're down here together. we're all here: heathens, heretics, kids with blue socks. i asked some questions and wasn't satisfied with the answers. it seems that's the biggest crime since not fitting in. but we're all here: king diamond, todd's mom, fallen angels, the decimated cultures, the kid in the corner in sweat pants. we'll find our own way.

Datos de esta canción
EGO FUM PAPA (I AM THE POPE) es una canción de Propagandhi del año 2001, este tema está incluido dentro del disco Today's Empires, Tomorrow's Ashes.