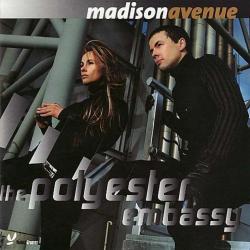 Everything You Need
Madison Avenue
La canción 'Everything You Need' se estrenó en 2000. Este tema está incluido dentro del disco The Polyester Embassy
Al final de la letra de la canción 'Everything You Need' podrás puntuar su calidad, comentar sobre ella, acceder a más lyrics de Madison Avenue y a música relacionada.
LETRA
i've been coming round here now for quite some time
and i think you've got it figured out
But you don't look at me, how i look at you
you make it so hard for my love to get through
and i just know i'd make you happy if you only let me in
you'll never really know unless you try
i could be, the, girl of your dreams i strongly suggest, you don't let me pass you by
BRIDGE
it's a lesson in simplicity
and i've spelt it out specifically
the rest is up to you
and it seriously bothers me
that you may just not ever see
the way i feel about you
CHORUS
i've got everything you need and
i want you to be with me
this is not some crazy fantasy
i got everything you need
take me for a ride in your big fancy car
i want to see how fast you can go
we'll drop the roof and we'll find the coast
and we won't stop driving till the sun sinks below
and we can find a litle place
that serves a chilled white wine
somewhere we can be alone
and you can feel free to impress me
and we can play until it's time to go
(BRIDGE)
(CHORUS x3)

Más abajo encontrarás canciones relacionadas con Everything You Need.
Puntuar 'Everything You Need'
¿Qué te parece esta canción?
-
0 votos
Comentar Letra
Comenta o pregunta lo que desees sobre Madison Avenue o 'Everything You Need'
Comentar
+ Madison Avenue
Canciones del Disco