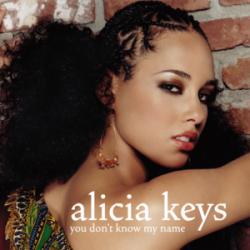 You Don't Know My Name
Letra
LETRA
You Don't Know My Name (Letra/Lyrics)
Baby, baby, baby
From the day I saw you
Really, really wanted to catch your eye
Somethin' special bout' you
I must really like you
'Cause not a lot of guys are worth my time
Oh baby, baby, baby
It's getting kind of crazy
'Cause you are taking over my mind
And it feels like ooh
You don't know my name
I swear, it feels like ooh
You don't know my name
(Round and round and round we go, will you ever know)
Oh, baby, baby, baby
I see us on our first date
Doing everything that makes me smile
When we had our first kiss
It happened on a Thursday
Ooh it set my soul on fire
Ooh baby, baby, baby
I can't wait for the first time
My imagination's running wild
It feels like ooh
You don't know my name
And I swear it baby, it feels like ooh
You don't know my name
(Round and round and round we go, will you ever know)
I'm sayin', he don't even know what he's doin' to me
Got me feelin' all crazy inside
I'm feelin' like, oh
Doing nothing I've ever done, for anyone's attention
Take notice of what's in front of me
'Cause did I mention (oh)
You bout' to miss a good thing
And you'll never know how good it feels
To have, all my affection
And you'll never get a chance to experience, my lovin' (oh)
'Cause my lovin' feels like
Ooh
You don't know my name
And I swear it feels like
Ooh
You Don't my name
Will you ever know it?
I'm going to have to go ahead and just call this boy
Hello, can I speak to, to Michael
Oh hey, how ya' doin'?
I feel kinda' silly doin' this, but uh
This is the waitress from the coffee house on 39th and Lennox
You know the one with the braids?
Yeah
Well I see you on Wednesday's, all the time
You come on every Wednesday on your lunch brake I think
You always order the special, with the hot chocolate
Look man I mean, I know girls don't usually do this
But I was wonderin'
If maybe we could get together outside the restaurant one day
You know, 'cause I do look a lot different outside my work clothes
Wait a minute, my cell phones breakin' up
Can you hear me now?
Yeah, so what day did you say?
Oh, Thursday's perfect
And it feels like ooh
You don't know my name
And I swear on my mother and father it feels like
Ooh
Ooh
Oh-oh-oh-oh-oh-oh-oh-oh
Will you ever know?
Datos de esta canción
YOU DON'T KNOW MY NAME es una canción de Alicia Keys que se estrenó el , este tema está incluido dentro del disco You Don't Know My Name – EP.
Sobre You Don't Know My Name
"You Don't Know My Name" es el single principal del segundo álbum de estudio de Alicia, "The Diary Of Alicia Keys". La canción ganó un premio Grammy a la mejor canción de R&B en 2005.
El tema está construido a partir de una muestra del grupo neoyorquino de los años setenta The Main Ingredient's "Let Me Probar My Love to You".
Alicia Keys explicó el trasfondo de esta canción en un podcast de Rap Radar, como se mencionó anteriormente: "'You Don't Know My Name' es una locura. Fue un momento muy especial, como en mi carrera y cuando estuvimos en el estudio creándolo, porque Kanye y yo habíamos hecho unas cuantas vibraciones diferentes cuando empezamos 'You Don't Know My Name'. En ese momento, John Legend ni siquiera se había establecido como artista todavía, e hizo los antecedentes de esa canción junto con Harold Lilly, de quien hablé antes, porque escribimos muchas de esas canciones anteriores y fue tan fresco combinar todo eso de 'Kanye cuando empezó'... es como la muestra de los viejos, ya sabes, clásicos vintage, ese es mi estilo y luego ponerlo todo junto".