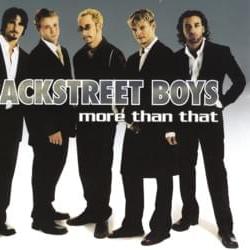 LETRA
More Than That (Letra/Lyrics)
I can see that you've been crying
You can't hide it with a lie
What's the use in you denying
That what you have is wrong
I heard him promise you forever
But forever's come and gone
Baby, he would say whatever
It takes to keep you blind
To the truth between the lines, oh
[Chorus]
I will love you more than that
I won't say the words
Then take them back
Don't give loneliness a chance
Baby listen to me when I say
I will love you more than that
Baby, you deserve much better
What's the use in holding on
Don't you see it's now or never
'Cause I just can't be friends
Baby knowing in the end, that
[Chorus]
There's not a day that passes by
I don't wonder why we haven't tried
It's not too late to change your mind
So take my hand, don't say goodbye
I will love you more than that
I won't say the words
Then take them back
[Chorus]
I will love you more than that
[Chorus]
I will love you more than that
Datos de More Than That
MORE THAN THAT es una canción de Backstreet Boys que se estrenó el , este tema está incluido dentro del disco Black & Blue .
Sobre More Than That
"More Than That" es el tercer sencillo de "Black and Blue". La canción fue escrita por Adam Anders. Llegó al número 27 en el Billboard Hot 100.