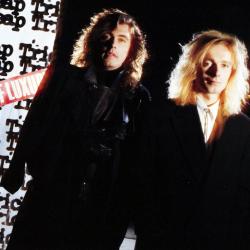 Ghost Town
Cheap Trick
La canción 'Ghost Town' se estrenó el . Este tema está incluido dentro del disco Lap of Luxury
LETRA
Well the streets are all crowded
Lots of people around
And there's music playing
But I can't hear a sound
Just the sound of the rain
Falling silently down
Livin' ain't been livin'
Since you put down
Yeah, life goes on around me every day
But it might as well be half a million miles away
It's like a ghost town without your love
Like a ghost town without your love
Like a ghost town, baby, can't you see?
It's a ghost town until you come back to me
oh, oh, till you come back to me
Well I wish I still had you
Had you here next to me
Baby, where did you go?
Baby, why did you leave?
Though the world, it keeps turnin'
But it don't turn for me
Without you in my life
My life ain't no place to be
There's only lonely days and empty nights
Ain't the same without you, baby, nothin' feelin' right
Darlin', I want to leave this town
Don't want to be around
I'm gonna leave this town
Más abajo encontrarás canciones relacionadas con Ghost Town.
Puntuar 'Ghost Town'
¿Qué te parece esta canción?
4,75
12 votos
Comentar Letra
Comenta o pregunta lo que desees sobre Cheap Trick o 'Ghost Town'
Comentar
+ Cheap Trick
Canciones del Disco
Música Relacionada