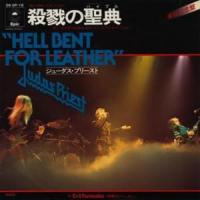 Hell Bent For Leather
Letra y Canción
Añadir a Favoritas
Guardar en Playlist
HELL BENT FOR LEATHER es una canción de Judas Priest que se estrenó el , este tema está incluido dentro del disco Killing Machine.
LETRA
'Hell Bent For Leather'
Seek him here, seek him on the highway
Never knowing when he'll appear
All await, engine's ticking over
Hear the roar as they sense the fear
Wheels! A glint of steel and a flash of light!
Screams! From a streak of fire as he strikes!
Hell bent, hell bent for leather
Hell bent, hell bent for leather
Black as night, faster than a shadow
Crimson flare from a raging sun
An exhibition, of sheer precision
Yet no one knows from where he comes
Fools! Self destruct cannot take that crown
Dreams! Crash one by one to the ground
Hell bent, hell bent for leather
Hell bent, hell bent for leather
There's many who tried to prove that they're faster
But they didn't last and they died as they tried
There's many who tried to prove that they're faster
But they didn't last and they died as they tried
Hell bent, hell bent for leather
Hell bent, hell bent for leather
Hell bent, hell bent for leather
Hell bent, hell bent for leather
Apoyar a Judas Priest
Judas Priest no está entre los 500 artistas más apoyados y visitados de esta semana, su mejor puesto ha sido el 421º en octubre de 2011.

¿Apoyar a Judas Priest?

Ranking SemanalMedallero