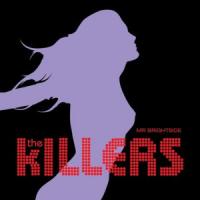 LETRA
'Mr. Brightside'
Coming out of my cage
And I've been doing just fine
Gotta gotta be down
Because I want it all
It started out with a kiss
How did it end up like this
It was only a kiss, it was only a kiss
Now I'm falling asleep
And she's calling a cab
While he's having a smoke
And she's taking a drag
Now they're going to bed
And my stomach is sick
And it's all in my head
But she's touching his chest
Now, he takes off her dress
Now, letting me go
I just can't look its killing me
And taking control
Jealousy, turning saints into the sea
Swimming through sick lullabies
Choking on your alibis
But it's just the price I pay
Destiny is calling me
Open up my eager eyes
Cause I'm Mr Brightside
I'm coming out of my cage
And I've been doing just fine
Gotta gotta be down
Because I want it all
It started out with a kiss
How did it end up like this
It was only a kiss, it was only a kiss
Now I'm falling asleep
And she's calling a cab
While he's having a smoke
And she's taking a drag
Now they're going to bed
And my stomach is sick
And it's all in my head
But she's touching his chest
Now, he takes off her dress
Now, letting me go
'Cause I just can't look its killing me
And taking control
Jealousy, turning saints into the sea
Swimming through sick lullabies
Choking on your alibi
But it's just the price I pay
Destiny is calling me
Open up my eager eyes
'Cause I'm Mr Brightside
I never
I never
I never
I never
Sobre Mr. Brightside
Davi Keuning, guitarrista de The Killers, escribió la canción sobre una infidelidad de la exnovia de Brandon Flowers.
Brandon Flowers declarón en la revista Q en marzo de 2009 como descubrió a su exnovia con otro hombre en el club Crown and Anchor de Las Vegas. "Estaba durmiendo y sabía que algo iba mal, tenía esa premonición" Fui al Crown and Anchor y mi novia estaba allí. Es por ello que la canción nació en Crown and Anchor
En el videoclip aparece Izabella Miko (que hace el papel de la novia) y Eric Roberts (el hermano de Julia) que sale como el chico con el que engañan a Brandon Flowers.
Apoyar a The Killers
The Killers no está entre los 500 artistas más apoyados y visitados de esta semana, su mejor puesto ha sido el 58º en noviembre de 2009.

¿Apoyar a The Killers?

Ranking SemanalMedallero