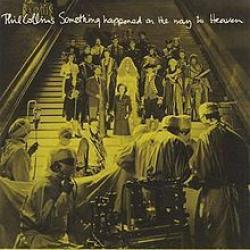 Something Happened On The Way To Heaven
Letra
LETRA
Something Happened On The Way To Heaven (Letra/Lyrics)
We had a life, we had a love
But you don't know what you've got 'til you lose it
Well that was then and this is now
And I want you back
How many times do I have to say I'm sorry, yes I'm sorry
How can something so good go so bad
How can something so right go so wrong
I don't know, I don't have all the answers
But I want you back
How many times can I say I'm sorry
You know, you can run, and you can hide
But I'm now leaving 'less you come with me
We've had our problems but I'm on your side
You're all I need, please believe in me, oh yeah
I only wanted someone to love
But something happened on the way to heaven
It got a hold of me and wouldn't let go
And I want you back
How many times do I have to say I'm sorry, yes, I'm sorry
You know, you can run, and you can hide
But I'm not leaving less you come with me
We've had our problems but I'm on your side
You're all I need, please believe me
You know, you can run, and you can hide
But I'm not leaving till it's all over
We've had our problems but I'm on your side
You're all I need, let me show you
They say you can't take it with you when you go
And I believe it
But taking what I've got or being here with you
You know I, I'd rather leave it
We had a life, we had a love
But you don't know what you've got 'til you lose it
Well that was then and this is now
And I want you back
How many times do I have to say I'm sorry, yes I'm sorry
You know you can run, and you can hide
But I'm not leaving less you come with me
We've had our problems but I'm on your side
You're all I need, please believe in me
You can run, and you can hide
But I'm not leaving until it's all over
We've had our problems but I'm on your side
You're all I need, please believe in me
Datos de esta canción
SOMETHING HAPPENED ON THE WAY TO HEAVEN es una canción de Phil Collins que se estrenó el , este tema está incluido dentro del disco ...But Seriously.
Sobre Something Happened On The Way To Heaven
Este es el cuarto tema del álbum "...But Seriously", lanzado como single el 16 de abril de 1990.

La canción es sobre una persona que Phil ama profundamente pero que lo ha abandonado por su comportamiento. Phil expresa su arrepentimiento por actuar de esta manera y desea que la persona regrese, explicándole su autoconciencia de sus faltas durante toda la canción.
La única vez que se usa el título de la canción es en el segundo verso del tercer verso.
La canción se identifica a menudo por el estribillo recurrente de '¿Cuántas veces puedo decir, lo siento?'".