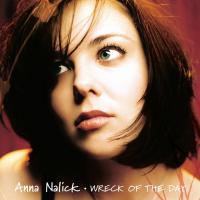 Paper bag
Letra y Canción
Añadir a Favoritas
Guardar en Playlist
PAPER BAG es una canción de Anna Nalick que se estrenó el , este tema está incluido dentro del disco Wreck of the Day.
LETRA
'Paper bag'
She don´t run from the sun no more
She boxed her Shadow and she won
Said, "I can see you laugh through these bottle caps
And this wire around my neck ain´t there for fun
But someday we´ll all be old
And I´ll be so damn beautiful
Meanwhile I´ll hide my head
Here in this paper bag
Cause if I can´t see you then you can´t see me
And it´ll be okay
Fly little bee away
To where there´s no more rain and I can be me
Yeah, they talk about her
She smiles like she´s so tough
She says "Hey, can you talk a little louder?
I don´t think my heart is broken enough."
But someday we´ll all be old
And I´ll be so damn beautiful
Meanwhile I´ll hide my head
Here in this paper bag
Cause if I can´t see you then you can´t see me
And it´ll be okay
Fly little bee away
To where there´s no more rain and I can be me
Some days I wade in the indigo
Singing that song on the radio
I blame these puddles on the rain
You know I gotta keep these cheeks dry today
Gotta keep my cheating strategy
And baby I´m gonna have it made
But someday we´ll all be old
And I´ll be so damn beautiful
Meanwhile I´ll hide my head
Here in this paper bag
Cause if I can´t see you then you can´t see me
And it´ll be okay
Fly little bee away
To where there´s no more rain and I can be me
And I´ll hide my head
Here in this paper bag
Cause if I can´t see you then you can´t see me
And it´ll be okay
Fly little bee away
To where there´s no more rain and I can be me
Where I can be me, yeah
I can be me
Where I can be me