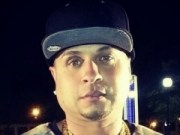 Traición
en inglés
LETRA
Traición (en inglés)
In whom you trust your asked me to start talking to you ... aah?
I'm going to count to three ...
1 2 3 Now look around
and tell me if you trust what you see!
I'm talking about friends who are no longer friends
of fate we are now enemies
before we were brothers
always gave her hand
and I end up littering the plate that ate the worm!
But it is not unusual that so is the street
owner is not nobody
I live in it
I try to orient yourself
is just talk to explain how it is
today and tomorrow could be you that ?.
next question
you still trust someone
contestame look me in the eyes we talk to me!
hypocrites have a little more of my lyrics
waking consciousness with true stories
tell me if you have logic
Always speak the truth
so do not come to criticize
if I am chronically person
I no longer believe in friendship
I'd rather walk alone
I betrayed
but worse things will happen
that the street is ready
and thank God respite
You can not imagine what I've fuc***
to stay alive
I even had to war with people who were supposedly friends
and then I kept it, I still !!
I gave them life and ended up being my enemies.
Third and last question
Confidence is very little you?
You know it cuts the other hand?
I have not counted how it feels to be betrayed
by someone who swore in vain
that it was your brother?
And to close this page with a flourish
cuidece my brother
and try to always walk alone
God bless you all
while you suffer implore
Datos de Traición
TRAICIÓN es una canción de Tempo. Agradecemos a Narcohampon por haber sudido la letra de Traición en inglés.