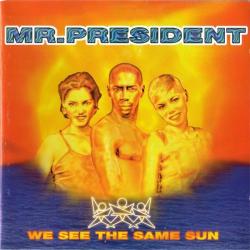 I love the way you love me
Mr. President
La canción 'I love the way you love me' se estrenó en 1996. Este tema está incluido dentro del disco We See the Same Sun
Al final de la letra de la canción 'I love the way you love me' podrás puntuar su calidad, comentar sobre ella, acceder a más lyrics de Mr. President y a música relacionada.
LETRA
REFRAIN:
To hold you
To feel you
To keep us stay together
To kiss you
To need you
Is what I'd wish forever
I love the way you love me
I love your way can't you see?
TELEPHONE CALL:
Hey baby it's me
What you doin´ right now
Yeah I'd love to come to see
You but I don't know how
I'm really busy,
And I ain't got time
Yeah you know that
You're always on my mind
When I get time I'll
Be around to see you
Oh baby, you know
That I miss you too
What would you say
To a candle light dinner
Call me soon I'm your winner
Más abajo encontrarás canciones relacionadas con I love the way you love me.
Puntuar 'I love the way you love me'
¿Qué te parece esta canción?
-
0 votos
* Gracias a van182 por haber añadido esta letra el 23/5/2006.
Comentar Letra
Comenta o pregunta lo que desees sobre Mr. President o 'I love the way you love me'
Comentar
+ Mr. President
Canciones del Disco