SO AHEAD OF ME
You're so ahead of me,
Don't see how that could be-
Did I just miss something here?
It's the worst I fear,
My Dear.

You're lookin oh-so-cute.
Did you just buy that suit?
And you just changed your hair,
It's so unfair.
I'm tryin not to care.

Just remember this-
It's just a kiss,
Nobody has to know.
But I'll know,
And I'll be waiting by the phone.

All those pictures that you gave me,
And all those promises you made me
All mean nothing-
Since you decide to grow up on me.
Sorry for this imposition,
But I don't get your new condition.
But I'll follow along-
And you can walk me like a dog.
I'll take you where you wanna go,
Let you play with my radio,
Is there nothing more that I can do
For you?
How 'bout a little clue?

Just remember this-
It's just a kiss,
Nobody has to know-
And I won't tell anyone
That you're just no good alone.

All those pictures that you gave me,
And all those promises you made me
All mean nothing-
Since you decide to grow up on me.
Sorry for this imposition,
But I don't get your new condition.
But I'll follow along-
And you can walk me like a dog.
fuente: musica.com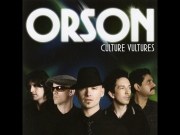 Ficha de la Canción
Título:
SO AHEAD OF ME
Grupo/Cantante:
ORSON
Letra añadida por:
iosakura
Escrita por:
CHAD MICHAEL RACHILD,CHRISTOPHER THOMAS CANO,GEORGE ASTASIO,JASON PEBWORTH,JASON ANDREW PEBWORTH,JOHN BEN T. JEN,KEVIN M. ROENTGEN
Publicada por:
UNIVERSAL MUSIC PUBLISHING GROUP