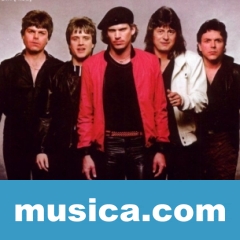 LETRA 'HUNGRY YEARS'
Would you still love me, if just perhaps
The roof above our heads should suddenly collapse
Would you still take me, for what I am
If I had nothin?
This heart?s an engine, it?s running lean
I?m down to skin and bone and still I?m fightin? clean
Do you share this vision, this reckless dream
Like the day we met.
If we work together we can pull this train
Can?t wait forever for the winds of change
Will you stand beside me like you did before
When the storm is at the window
And the wolf is at the door
*These are the hungry years
Stand up and face your fears
Your faith can fight these tears
These are the hungry years*
Sometimes I watch you as you sleep
So safely unaware we might be in to deep
I hide my feelings behind these shades
Like you don?t see
And if we pull together we can make this climb
With a love as tough as these desperate times
Will you stand beside me like you did before
Now the storme is at the window
And the wolf is at the door
( * Repeat)
Do you remember the feelings we had
Baby, the first time we touched
Is there a way to find it again
Girl is that asking too much - too much
Apoyar a Survivor
Survivor no está entre los 500 artistas más apoyados y visitados de esta semana.

¿Apoyar a Survivor?

Ranking SemanalMedallero